About Us
Lusens Inc. is a Canadian company, which, through a network of strategic technology and business partners offers immersive interactive multimedia installations and experiences to customers worldwide.
Experiences Aimed to Engage and Inform

Users Interact with Multi-Media Content

Developing Custom Solutions to Our Clients
Lusens multi-disciplinary team that includes engineers, programmers, computer vision experts, graphic designers, animators and other progessionals, envision, design, create, build, integrate, customize, install and support large scale immersive  installations and experiences utilizing state of the art technologies. Lusens has significant experience in delivering its technology in the form of interactive donor recognition walls, multi-touch and bar-top tables, interactive kiosks, interactive walls, floors and windows experiences and others.
Our Services
We share your vision. We build custom digital media experiences from the ground up to achieve your unique goals. We support and maintain our experiences. We provide you with web-based tool that will allow you change content. And we have proven experience. Through strategic technology and business partners in many countries, we have created and delivered interactive experiences for universities, retail stores, shopping malls, hospitals, bars, clubs, restaurants, museums, trade shows and other public spaces. Built to fit your needs and your budget, our systems are flexible, modular, expandable and appear as seamless extension of your environment.
Our Process
We listen. We act. We care. We do what it takes to make a real difference for our clients:
ConsultationOur collaborative approach engages stakeholders, delivers ownership on the solutions, and ensures that the end result meets your needs and exceeds your expectations.
DesignOur multidisciplinary design team delivers bold, creative solutions that integrate hardware and software with intuitive interfaces and cutting-edge design.
DevelopmentTransforming design into reality, we employ rapid prototyping, effective project management, user testing, and QA cycles to launch projects quickly, reliably and on budget.
SupportWe provide full-service, responsive support to ensure maximum uptime performance, as well as powerful web-based content management solutions for keeping your content up to date.
Our Philosophy
Lusens unleashes digital technology to create unmatched interactive experiences.
We are storytellers, using touch, gestures and motion to craft unique immersing experiences. We passionately explore new ideas, pushing the boundaries of interactivity to redefine how we all interact with the world around us.
Our Solutions
Lusens immersive installations and experiences reacts to human movements, gestures and touch by triggering animations, effects and sounds and by also displaying relevant information while delivering a most engaging and memorable experience.
Immersive Installations
Lusens along with its technology and business partners including Planned Legacy and Forge Media, delivers engaging and inspiring interactive media installations for must-see exhibits and unmatched donor recognition systems. Our installations are memorable, inspiring, and custom-designed to your needs, utilizing materials and textures that blend with your venue. Our interactive Donor Recognition solutions integrate donor profiles, organizational highlights, historical time-line, donor recognition, and much more. Our exhibit installations deliver stunning interactive experiences to enhance your exhibit. Lusens media installations are based on our reliable, high-performance interactive technology, and utilize an easy-to-use content management system to give you the power to update your content instantly.
---
Kiosks and Directories
Empower your customers with the information they need. Wayfinder and Infocentre kiosks and directories from Lusens can leverage your customers' precise location, delivering customized point-to-point directions and branded content, to take the stress out of navigating large and complex sites. Lusens multidisciplinary development team delivers fully customized touch and touch-less solutions, backed by our unparalleled and responsive support. Our immersive Wayfinder and Infocentre kiosks and directories increase user satisfaction, promote longer stays, and encourage repeat visits.
---
Interactive Experiences
Intrigue, Engage & Captivate! WOW customers and visitors with Lusens' engaging and entertaining interactive experiences. Touch-based tables, kiosks, and video wall solutions allow multiple people to interact and collaborate. Beyond touch interaction, Lusens computer vision technology measures body position and tracks gestures for natural interaction with custom applications and games. Interactive Experiences from Lusens will immerse your users in jaw-dropping audio-visual multi-sensory experiences, creating unmatched branded interactions for your customers.
---
Lusens Labs
Lusens' advanced research and development centre specializes in the conception and creation of engaging multimedia interactive technologies and experiences based in state of the art computer vision algorithms. The group focuses on transforming ideas into immersive multimedia experiences driven by people's gestures, motion and touch.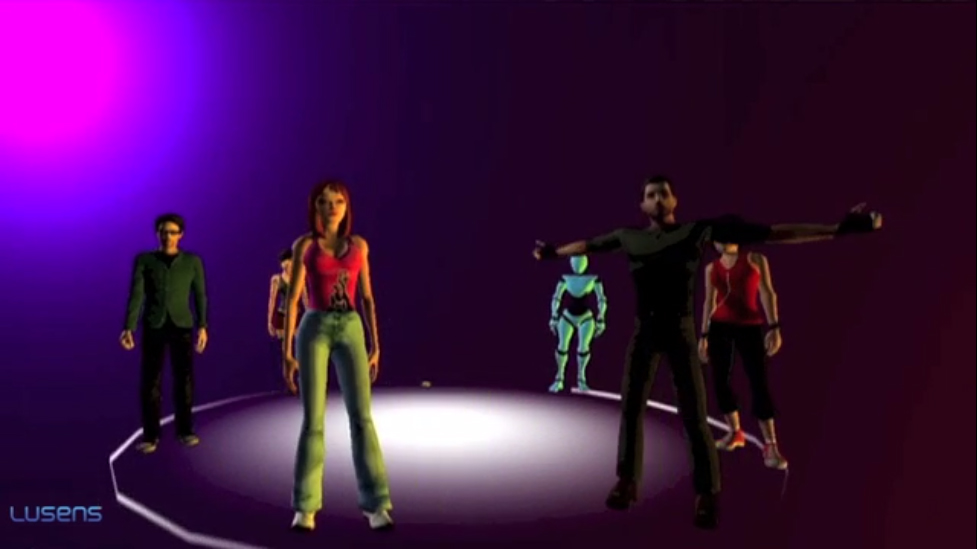 Software Program Development

Transforming Ideas into Immersive Experiences

Understanding People's Gestures and Touch
Assisted by special sensors, Lusens Labs' software tracks people's body movements and gestures, enabling them to interact or drive with their movements, the movement of custom 3D characters and avatars.
Lusens Labs multidisciplinary team of programmers, engineers, computer scientists, creative designers, art directors and others, offers custom development services to systems integrators and end-users and also licenses its powerful software platforms to third parties.
---
Expertise
Lusens Labs multi-disciplinary team consist of scientists, engineers and programmers with considerable experience in User Experience. Lusens Labs' Technical Director, Mr. David Horachek, is an accomplished Professor in Game Programming at one of Canada's most prestigious Colleges, with more than 13 years research and development experience in the computer imaging and gaming industries.
Have a question or want to inquire further about our services? Contact Us
Contact Us
For general inquiries about Lusens, to inquire how you can become the exclusive Lusens Business Partner in your territory or to ask for technical and/or price information about a Lusens Interactive Product, Solution or Experience, please contact us using one of the methods below. We look forward to hearing from you soon.